At GAC Group, as a civic and socially responsible company, we implement actions on a daily basis to promote the development of inclusion, diversity and diversity. We make a difference by taking concrete action for this purpose which is at the heart of the richness of our corporate culture and has a positive impact on the development of our employees, our customer relations and our network. 
This commitment is reflected in all dimensions of the company and no.
We are convinced that our corporate culture, driven by these values of inclusion, diversity and diversity also fosters creativity, innovation and a strong sense of belonging.
We promote a variety of backgrounds, experiences, cultures and nationalities in our recruitments and encourage different management styles, the fruit of complementary managerial approaches.
We therefore value the variety of profiles and experiences.
women in our total workforce
of women on our Management Committee

Points Gender Equality Index
Male Leadership ...

and the Feminine ...
GAC Group promotes gender diversity and has been committed for years to a process of professional equality between women and men and equal opportunities.
Our professional equality policy is based on three pillars:
Promote a balanced representation of women and men: within the group, parity is balanced.

Promote women's access to positions of responsibility and their representation at all levels of the company.

Establish equal pay: in a framework of equivalent performance we attach unequivocal importance to equality between women and men. The excellent scores measured in the gender pay gap indicators and the gaps in the annual increases in the gender equality index demonstrate our commitment to equity.
In addition, if equal pay is one of the foundations of professional equality, we have other equally strong challenges: diversity of professions, key positions, work-life balance.
Equality Index

Women / men
GAC Group results for the reference period from January 1 to December 31, 2020: 88 points. 
In 2021, we are continuing our commitment with the aim of sustainably strengthening our actions.
Our actions in favor of Education

and Transmission 
Aware that gender diversity is also a driver of performance, the objective is to encourage female vocations in engineering and technology professions.
GAC Group is a partner of the Elles bougent association, which promotes scientific professions among young girls and young women.

Our objective is to arouse vocations thanks to the sharing of our godmothers and ambassadors of Elles Bougent and to awareness campaigns and events: Innovation Challenges, testimonials from middle school and high school students, Recruitment forums ...
GAC'UP

Start-up accelerator and catalyst for progress
Because innovation is at the heart of our businesses, we wanted to support young shoots to grow. We therefore opened GAC'UP, our start-up accelerator in 2018.
This support program is aimed at innovative start-ups in the acceleration phase.
We believe that sharing our experiences in innovation and performance consulting can help the development and creation of positive impacts for start-ups wishing to contribute to societal progress.
The selected start-ups evolve for 2 to 3 years in our various premises in Issy les Moulineaux and in the region and benefit from meetings with partners, potential clients or investors.
Start-ups also have access to the firm's internal skills, to obtain personalized advice on a variety of subjects (fundraising, structuring of the innovation strategy, innovation marketing, international development, etc.).
To launch GAC'UP and support these young shoots on their strategic subjects, GAC Group has surrounded itself with a network of expert partners, volunteers:
Action Expertise, accounting firm,
Bird & Bird, international law firm,
EMES Conseil, specialist in sales training,
Financial Private Funds, private investment fund.
We will be launching our next promotion very soon, dedicated to actors of the Social and Solidarity Economy!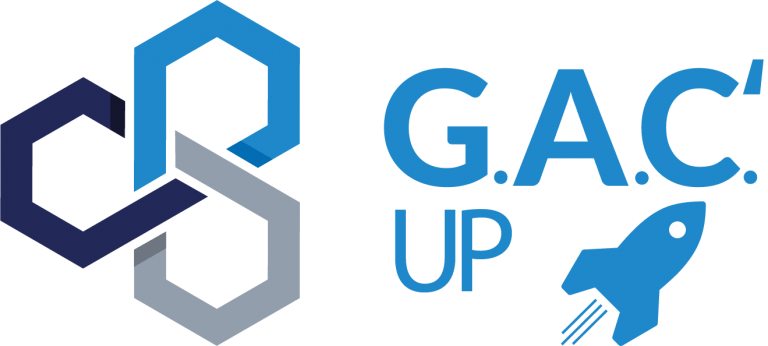 GAC

FOR GOOD
Solidarity hackathon
Knowing how to give is the secret to happiness. ~ Anatole France
Our employees invest in causes that are dear to us: environmental protection, education and transmission, inclusion and sharing.
We promote these individual and collective initiatives to contribute at our level to societal progress.
On the occasion of our last seminar, we had the pleasure of living a solidarity Hackathon organized by our partner Big Bloom to help accelerate 3 social innovations!
1TP3Commitment #socialimpact #innovation #teambuilding
Search for regular donors for their homes shared between able-bodied and disabled people with SIMON OF CYRENE
Launch of an Alumni network for NQT Association (Our neighborhoods have talent)
Organization of an event to celebrate their 10th anniversary with theLAPLAJH Association , an NGO that makes the swimming pool accessible to people with disabilities
A great challenge crowned with success!