In France, the Health industries and technologies is distinguished by a an innovative and dynamic industrial fabric that invests more than 10% of its turnover in research and innovation.
Pharmaceutical laboratories, medical device or in vitro diagnostic manufacturers, biotech and medtech start-ups are now facing major challenges: Global growth in demand for health care, regulatory and sanitary requirements, availability of molecules and raw materials, price regulation and, of course, the emergence of infectious diseases likely to cause health crises...

The recent health crisis linked to COVID-19 has put the spotlight on the sector and imposed significant investments on companies. Fortunately, they are not alone: public funding is available to support their R&D&I projects.

Discover the range of opportunities available to you through customer testimonials, illustrations and key figures in our special report!
What are the national calls for projects dedicated to health innovation?
What are the European projects for innovation in health?
What are the fiscal levers that encourage innovation in health? 
To download the special file, fill out the form below.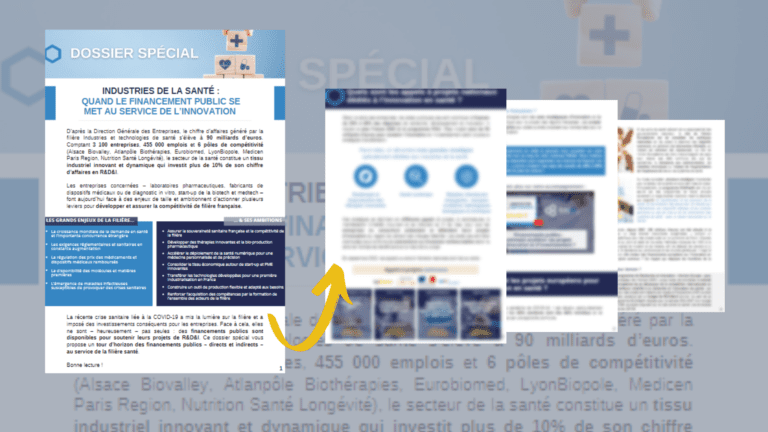 The recent health crisis linked to COVID-19 has put the spotlight on the sector and has imposed significant investments for the companies.

To meet these challenges, the sector aims to develop innovative therapies, accelerate the deployment of digital health and personalized and preventive medicine, and build a flexible production tool with the aim ofensure French health sovereignty.

We offer an overview of public funding - direct and indirect - for the health sector. Grants, Horizon Europe, CIR, IPBOX...